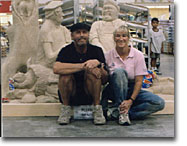 Meredith Corson and partner Dan Doubleday competed in the World Championship Sand Sculpting Competition in British Columbia, Canada in September. Last year Meredith took second prize and this year Dan placed first.

Dan and Meredith own and operate Sanding Ovations, a sand sculpting company that builds sandcastles and sand sculptures for events like Beach Fest 2001 and the Super Bowl as well as promotional sculptures in supermarkets and malls. To see more of their work be sure to visit www.sandingovations.com

Together they sculpted a huge castle on the beach in front of the Tradewinds Resort, completed during Super bowl week in January. Check the Super Bowl page for a time-lapse. You can watch them work, the crowds that gathered and watch the sculpture rise out of the sand.
Last year Meredith created an extraordinary castle with the theme of the NCAA Final Four which was held in St. Pete. Crowds came daily to watch the work in progress, as well as being a hit with ESPN and media around the nation.